Our Newest CD is Thought Porridge. It's officially out on 3rd November, but you can buy it here now!
Or you can have our back catalogue now!
Overseas? Email for postage costs
Each costs £5 so please feel free to buy several.

We've cleverly spread our best songs across all of them: £20 for all four.
You get all the advantages of full-colour professional CD print, a lovely booklet with the lyrics and lots of Dean's lovely pictures, but if that all seems like far to much hassle, use the links on the players to the right to download the audio (Thought Porridge will be available for download after 3rd November)
If you're the sort who likes to sing along, click the badgers below to download the lyrics. You also might want to consider our song book below.

Dinosaurs Ate My Caravan Lyrics



The Greatest Show on Toast Lyrics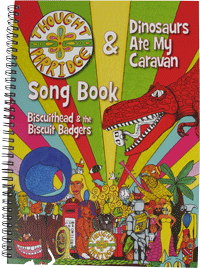 84 pages long with all the songs from Thought Porridge and Dinosaurs Ate My Caravan, the chords and ukulele tab.
We also do a book of just Thought Porridge songs, for those of you who already have the Dinosaurs Ate My Caravan Song Book.